Sample HL7 ADT A04 Message
Sample HL7 ADT A04 Message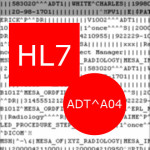 A "register patient" message (A04 event) signals that the patient has arrived or checked in as an outpatient, recurring outpatient, or emergency room patient. 
Note: Users may be able to configure their system to process, or not process (ignore), some (or all) outpatient and emergency room registrations; in either case an "application accept" acknowledgement will be returned to the sender.
This message uses the same segments as the "admit patient" (A01) message.
Here are some great HL7 resources that I found on Amazon…great tools!
Below is an example HL7 message. The demographics are fictitious and no real patient data has been included.
MSH|^~\&|ADT1|MCM|LABADT|MCM|198808181126|SECURITY|ADT^A04|MSG00001|P|2.4
EVN|A01-|198808181123
PID|||PATID1234^5^M11||JONES^WILLIAM^A^III||19610615|M-||2106-3|1200 N ELM STREET^^GREENSBORO^NC^27401-1020|GL|(919)379-1212|(919)271-3434~(919)277-3114||S||PATID12345001^2^M10|123456789|9-87654^NC
NK1|1|JONES^BARBARA^K|SPO|||||20011105
NK1|1|JONES^MICHAEL^A|FTH
PV1|1|I|2000^2012^01||||004777^LEBAUER^SIDNEY^J.|||SUR||-||1|A0-
AL1|1||^PENICILLIN||PRODUCES HIVES~RASH
AL1|2||^CAT DANDER
DG1|001|I9|1550|MAL NEO LIVER, PRIMARY|19880501103005|F||
PR1|2234|M11|111^CODE151|COMMON PROCEDURES|198809081123
ROL|45^RECORDER^ROLE MASTER LIST|AD|CP|KATE^SMITH^ELLEN|199505011201
GT1|1122|1519|BILL^GATES^A
IN1|001|A357|1234|BCMD|||||132987
IN2|ID1551001|SSN12345678
ROL|45^RECORDER^ROLE MASTER LIST|AD|CP|KATE^ELLEN|199505011201
Other examples of ADT messages are: