HL7 ADT – Cancel Admission (A11) Sample Message
ADT^A11 – Cancel Admission
For inpatients, the "cancel admission" message ADT (A11 event) is sent when an earlier "admission" message (A01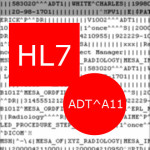 event) is canceled, either because of an erroneous entry or because of a revised decision to not admit the patient.
For outpatients/ER patients, the message is sent when an earlier "register outpatient" message (A04 event) is canceled for similar reasons. If the patient has orders on file, the patient will be discharged by the application. If no orders are on file, the patient's record will be deleted.
This message uses the same segments as the "discharge patient" (A03) message.

| | |
| --- | --- |
| Segment | Description |
| MSH | Message Header |
| EVN | Event Type |
| PID | Patient Identification |
| PV1 | Patient Visit |
HL7 ADT^A11 Sample Message Sent From Hospital Information System:
MSH|^~\&|AccMgr|1|||20050112154645||ADT^A11|59912415|P|2.3||| EVN|A03|20050112154642||||| PID|1||10006579^^^1^MRN^1||DUCK^DONALD^D||19241010|M||1|111^DUCK ST^^FOWL^CA^999990000^^M|1|8885551212|8885551212|1|2||40007716^^^AccMgr^VN^1|123121234|||||||||||NO PV1|1|I|IN1^214^1^1^^^S|3||IN1^214^1|37^DISNEY^WALT^^^^^^AccMgr^^^^CI|||01||||1|||37^DISNEY^WALT^^^^^^AccMgr^^^^CI|2|40007716^^^AccMgr^VN|4||||||||||||||||1|||1||P|||20050110045253|20050112152000|3115.89|3115.89|||
Examples of ADT messages are:
ADT-A11 – cancel patient admit