What is HL7?
What is HL7?
Health Level Seven (HL7), is a non-profit organization involved in the development of international healthcare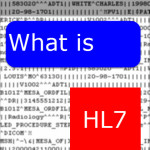 informatics interoperability standards. Members of HL7 provide standards and a frame work for the exchange, retrieval and sharing of electronic health and medical records.
HL7 is used exclusively in healthcare and can be found in hospitals and health clinics around the world. HL7 was created in order for different healthcare IT systems to share and send information. These HL7 messages are 'vendor neutral' and can be shared between Lab Information Systems, Radiology Information Systems, Hospital Information Systems and Billing Systems to name a few.
In the example above a patient is checking in to a hospital.  At the admission desk the patient provides standard demographics such as name, address and insurance information which are entered in to the Hospital Information System.  In this example the patient is required to go for X-rays and get some blood work done.
Prior to HL7 a patient's demographics would have to get entered in to the radiology and lab information systems separately. The example in the illustration above shows a radiology information system and a laboratory information system. If all the systems support HL7 and assuming an HL7 interface has been set up the between the different systems, demographics only need to be entered once upon admission.  The data in the form of an HL7 message would then be transmitted from HIS to the RIS and the LIS.
It's safe to say all current health information systems support HL7.