Lexmark Enterprise Content Management
Lexmark Enterprise Content Management with NileRead Viewer
Over the years I haven't read a lot regarding Lexmark in the PACS market, however they've made great strides in Electronic Content Management.  Their software suite helps consolidate, organize and link faxes, images, paper documents and other clinical documents.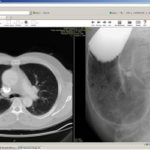 Every years there are approximately 1.2 billion clinical documents are produced.  Lexmark's software suite wants to link those documents that don't make in into an EMR.
Lexmark's software is compatible with IHE standards for DICOM, HL7 and Web Service.  You can look at the conformance statements here.  This means integration with common EMRs such as EPIC, Meditech, Allscripts and Eclipsys to name a few.  With DICOM integration you can expect Lexmark to expand it's presence in the PACS market.
Recently at HIMSS 2016 in Las Vegas Lexmark displayed their enterprise HCM, whose "expanded capabilities" were highlighted.  HCM uses a browser-based "zero footprint" design that is "built without legacy PACS components.
Among the system's features are:
A unified vendor neutral archiving and enterprise content management platform.
Enterprise image connectivity solutions that capture, manage and integrate film, video, visible light and other data.
NilRead 4.0, Lexmark's zero-footprint enterprise diagnostic viewer, which gives clinicians universal access to all patient imaging through the electronic medical record system or health information exchange.